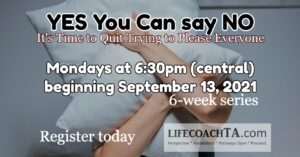 Are You A People Pleaser?
Do you politely agree with others so they will like you?
Do you apologize for things that aren't your fault?
Do you quickly say 'yes' when asked to do something even if you don't want to?
Does your personal worth depend on the opinion of others?
If you answered 'yes' to these questions, you may very well be a people pleaser.
Are you ready to begin setting boundaries and accept that it is okay to say 'no' and makes choices that others may disagree with?
Join me for this 6-week online group series. 
You will begin to create a toolbox allowing you to:
learn how to look at events to find where your responsibility may lie
discover ways to set boundaries
develop methods to set priorities and say no
You will also receive:
Kindle copy of the book "Boundaries" by Drs. Cloud and Townsend
My e-book "The Art of Saying No"
'Yes You Can Say No" workbook
For the privacy of the participants, this discussion portion of the event will not be recorded. I will record the presentation portion for those who are u enable to attend.  To allow everyone time to speak and share, seating is limited. If you find the event is sold out, email me (lifecoachTA at gmail dot com) of your desire to attend. A waiting list will be created with first chance opportunity on the next series.
Register Today:
[wpeevent id=2009]